Dallas Full Sleeve Tattoos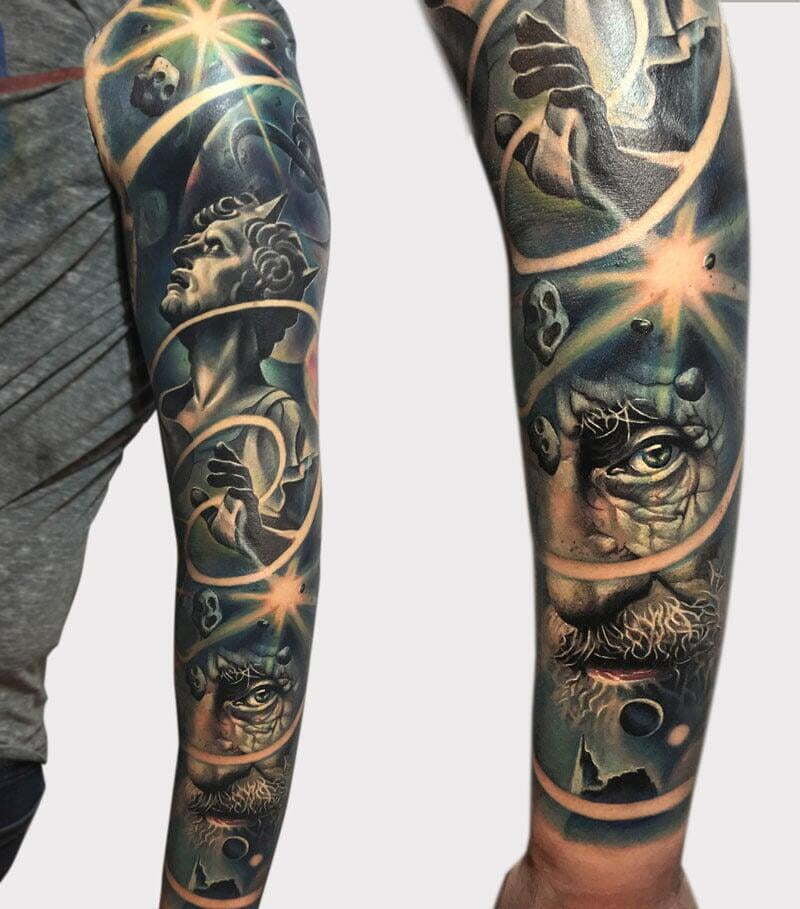 Our client base of large tattoo aficionados are constantly looking to add a bit of flair to their existing body art. We're talking about Dallas full sleeve tattoos or half sleeve design ideas, of course. There are those who only want a little smattering of ink on the side of the wrist or a back piece, but we specialize in full-on sleeves, so read on if you need some great designer insight on these.

Choose Your Tattoo Design – You can have one big piece that covers your whole arm, or several smaller ones that connect together. You may decide to stick with simple designs for full sleeve tattoos in Dallas TX in black ink only or use several color schemes and shading.

Picking a Design That Can Be Cut into Pieces – If you're going for an abstract or geometric design, make sure it's something that can be cut into pieces without losing its meaning. For example, an animal silhouette might work well because it won't matter how many times you cut it into smaller pieces. Each piece will still look like an animal silhouette.




Choose the Right Tattoo Artist – Our artist Charles Huurman has over 16 years of experience with Dallas full sleeve tattoos and has tattooed celebrities and rock stars. Other tattoo artists often don't know how to approach big pieces like sleeves or full backs like we do, so the result is not a clear piece of art made of many smaller ones but is instead a group of images stacked with no sense, like magnets on a refrigerator.
THE BEST FULL SLEEVES HAVE A FEW CHARACTERISTICS IN COMMON

There are certain features that differentiate great full sleeve tattoos in Dallas TX from mediocre full sleeve tattoos:
Depth




The way it moves when you move, so it helps if your artist has knowledge of anatomy

Originality

Aesthetics and flow

How well it works with your body shape and complexion
At Charles Huurman, we want every single customer to be extremely happy with the Dallas full sleeve tattoos we create for their bodies. That's why we require consultation meetings before we can commit to a design. Please fill out the contact form below for consideration.