San Antonio Best Black And Gray Tattoo Artist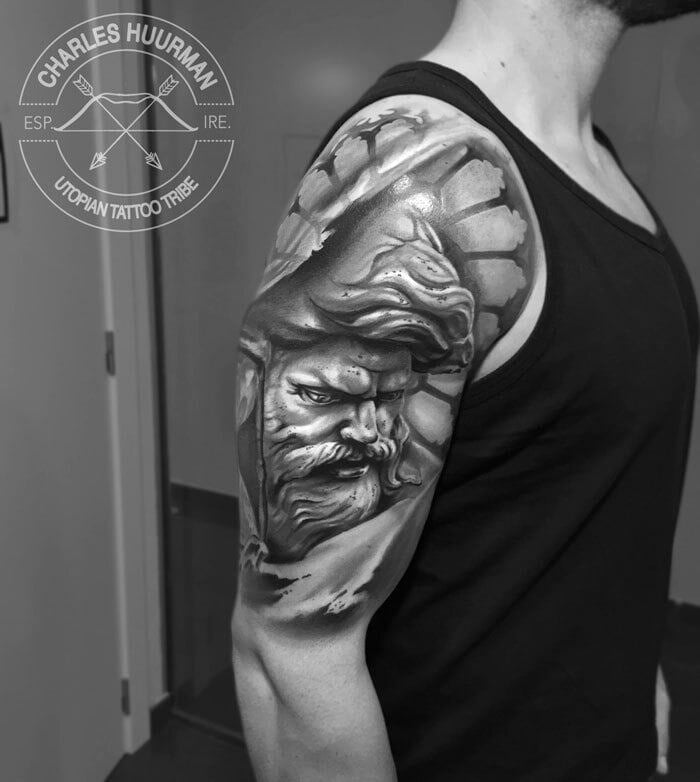 Black and gray tattoos allow you to show off your creativity, while still looking good with something that easily matches your skin tone. This makes them great for both men and women.
Our San Antonio best black and gray tattoo artist has been tattooing for over 16 years, and we have worked on thousands of black and gray tattoos. So, whether you want a traditional piece or something more abstract or out there, we can make it happen.
SAN ANTONIO BLACK AND GRAY TATTOO FUN FACTS
Black and Gray Tattooing is Also Called Blackwork – Black and gray tattoos are also called blackwork because they often consist solely of line work and/or dot work done in shades of gray. Blackwork can be a misnomer because sometimes we also blend in some color in our designs. After all, we became the best black and gray tattoo artist in San Antonio TX by thinking outside of the box!

A Remarkable History – The history of the black and gray style of tattooing goes back to the early days of tattooing. Artists didn't have access to dyes and pigments like we do today. Instead, they used soot or gunpowder and water to produce shades of gray on their clients' skin!




Why San Antonio Best Black and Gray Tattoo Artist Uses Single-Needles and Double-Needles – The shading in a black and gray tattoo can range from subtle to detailed and it can be a single- or double-needle shading technique. Single-needle shading creates very subtle shading, and it's often used to add depth to your tattoo. Double-needle shading involves using two needles at once to create more prominent shadows.
BLACK AND WHITE TATTOO OPTIONS

You have numerous design options when you're working with the best black and gray tattoo in San Antonio TX so if you have a hard time deciding, we can guide you in the right direction. You may want to consider:
Realism which is perfect for portraits, animals, or landscapes because it looks like a black-and-white photograph imprinted on your skin




Abstract or custom designs we create together

Geometric

Tribal
NOW IS THE TIME TO SCHEDULE A CONSULTATION
When you're considered San Antonio best black and gray tattoo artist then chances are you're very busy. Even so, our celebrity artist Charles Huurman has opened up appointments for a select few. Tell us about yourself! Fill out the contact form below for consideration.