Texas Celebrity Tattoo Artists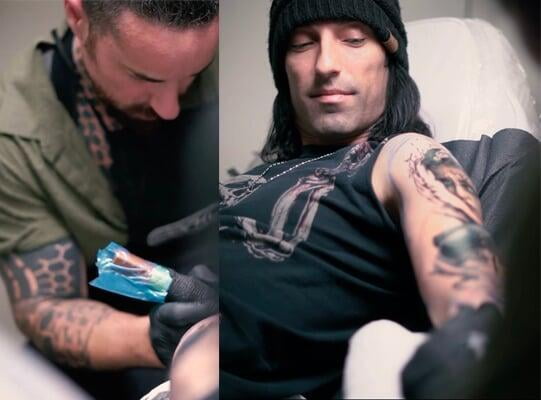 You may think that Texas celebrity tattoo artists are out of reach or are too busy to schedule an appointment with you, and for the most part, that may be true. However, for the foreseeable future (until he starts traveling again, anyway) celebrity tattoo artist Charles Huurman is offering appointments for a fortunate few.
Charles has tattooed the likes of professional football player Leonard Fournete and has worked with TV celebrity tattoo artists such as Ryan Ashley Malarquey of INK Master. Now that he is here, you have the chance to get the same 5-star treatment that celebrities get.
GET INKED BY A CELEBRITY TATTOO ARTIST
The Style – If you're looking for a style that has been popularized by celebrities or models, chances are that celebrity tattoo artists in Texas will be able to give it to you. Whether it's sleeves or even something more complex, Charles has done them all and knows how to give each one its own unique twist, so it looks fresh and modern while still being true to the style they're supposed to represent.

Knowledge and Experience – The fact that celebrity tattoo artists have worked with famous people gives them a unique skill set. Without question, they know how long certain areas of the body take to heal, what kind of equipment works best for certain areas and what kinds of designs look good on different parts of the body.




Why Texas Celebrity Tattoo Artists are a Rare Breed – They're the ones who have been lucky enough to work with famous people who want to be permanently inked with their favorite designs. Charles is known across the globe for having an amazing eye for detail and being able to create truly unique realistic tattoos, drawing on his decades of experience as a painter in the world of fine art.
OUR AFFILIATIONS WITH CELEBRITY TATTOO ARTISTS AROUND THE GLOBE

As celebrity tattoo artists in Texas today, we have been able to cast a wide net that includes global affiliations with the best of the best:
Utopian Tattoo Tribe in Ireland and Spain




Ami James' Love-Hate in Ireland

Soul Addiction in Ireland

Andy Engel Tattoo in Germany

Freedom Tattoo in Hong Kong
AN EXCLUSIVE OPPORTUNITY TO BECOME PART OF THE TRIBE
Each body is unique and offers infinite possibility. These Texas celebrity tattoo artists live to bring your vision to the surface of your skin! If you're interested in a consultation, fill out the online form below for consideration. Your form will go through an approval process. If selected, we will reach out to you with details on your project, recommendations, estimates and some possible dates.